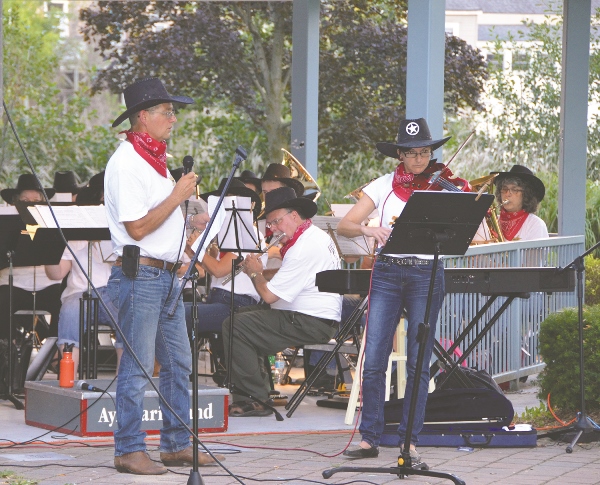 THE DEVIL WENT DOWN TO GEORGIA – Merry Schmidt, director of the Ayr-Paris Band was featured on violin, together with her brother Steve Brunton, who performed the speaking role in The Devil Went Down To Georgia, a Charlie Daniels tune at a country and western concert presented on Wednesday, September 7th, the season finale to the summer concert series at Centennial Park in downtown Ayr. To complete the theme, band members sported country and western outfits.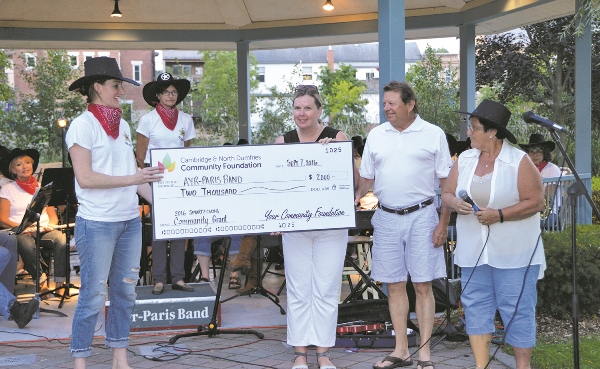 AYR-PARIS BAND RECEIVES NORTH DUMFRIES SMART & CARING FUND GRANT – the Ayr-Paris band finished off a successful summer with a country and western theme concert in downtown Ayr on Wednesday, September 7th. In attendance were representatives of the Cambridge
& North Dumfries Community Foundation (CNDCF) who presented the band with a cheque for $2,000. The funds are designated through the North Dumfries Smart & Caring Fund and will be used to purchase instruments for the junior band. Shown above are (l-r): Elisabeth Cain, vice-president; Merry Schmidt, director; Lisa Short, CNDCF; John Egoff, CNDCF; Mayor Sue Foxton.
Thank you for a terrific 2016 Summer Concert Series!
To hire the Ayr-Paris Band, email ayrparisband@hotmail.com