29 Piper Street

Ayr, Ontario Canada

N0B 1E0

email: ayrparisband@hotmail.com

website: ayrparisband.com


PRESS RELEASE
The Ayr-Paris Band is comprised of 45 volunteer members of all ages from Ayr and Paris, which is located in Southwestern Ontario, Canada.
The Band is under the direction of Merry Schmidt of Ayr.
The Ayr-Paris Band performs in concert at local festivals, churches, remembrance services, local retirement homes, Tattoos, at their own pavilion in downtown Ayr and several fundraising events. They also participate in many parades, with an engagement calendar of approximately 26 jobs per year.
The Band has taken part in the Toronto St. Patrick's parade for 15 consecutive years; the Disney parade at Goderich (1999) the Toronto Santa Claus parade and many Legion parades.
The music ranges from Broadway and Movie Medlies, Light Classical, Sacred Music, Popular Tunes. Your typical "Afternoon in the Park" appeal.
Previously, the Band has many international tours including: Austria, Switzerland, France, Germany (2014), Eastern Europe (2010); Scotland (1969, 1980, 1991, 2006), Ireland (1994, 2006), Northern Ireland (1994), England, Wales (1991) Germany (1985, 1988, 1999), France (1988, 2001), Holland (2001), Austria (1985, 1999), Italy (1998). In Canada, they have toured both the East Coast (1972, 2004) and West Coast (1974), Ottawa (1990), Kingston (1992) and the Calgary Stampede in Alberta (1982).
In 2018, the Band is planning a tour of England and Wales.
They have also hosted international groups from Ayr, Scotland (Fiddle Orchestra and Pipe Bands); Beresford, Scotland (Choir); Warrington, England (Choir).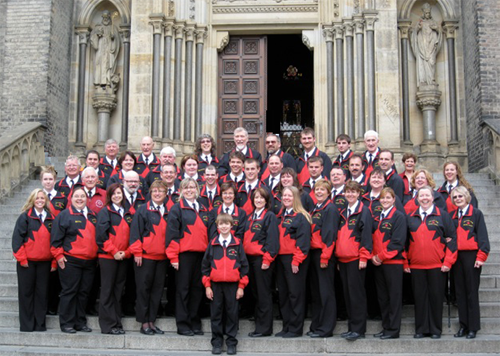 Pictured in Prague, Czech Republic, July 2010
This page was last updated June 24, 2015